Wooden Door Specialists in East Midlands, Creating Wooden Doors for the whole of the UK - Nicholls Joinery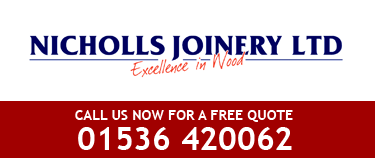 Wooden Doors
Wooden Doors can usually be created from pictures and measurements. We can survey the wooden door to be replaced or the space where the wooden door needs to be placed if required.
Our wooden doors are created from wood supplied by companies that are involved in the Timber Trade Federation Responsible Purchasing Policy. This ensures that our wooden doors have no environmental impact.
The wooden doors can be painted or sprayed any colours, or your wooden doors can be varnished / stained.